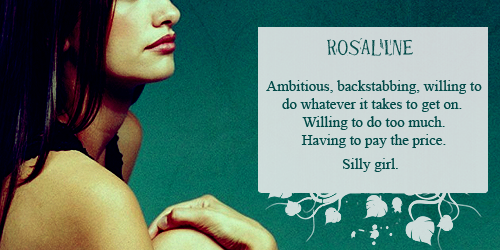 Looking for a Rosaline
Rosaline is a woman who knows what you want. She's an incredibly good judge of things, and a quick study. Therefore...she's just the woman you're looking for. She's the woman everyone is looking for. She can adapt to just about any situation, pulling out a persona that will fit with the needs of whoever is in her company. She's a chameleon.

She also had a boss, once upon a time - and Rosaline isn't a woman who does well playing second fiddle. And so she betrayed her employer, her boss, selling her out to the mob and setting her up for a fatal downfall. Only, as it played out, she only swapped one employer for another, as the Syndicate themselves took over. Things crashed and burned - and the woman she thought was dead rose from the ashes. Now, Rosaline needs to plan her next move.

Could you be the one to help her make it?


About Us
Eidolon City is a newly revamped and re-opened noir-themed game in a 1940s setting seeking players in a vast number of different roles, from mobsters to policemen, business owners of every stripe, and everything in between. We've got room for Dreamers, the characters that provide the dreamscape. Into something a little more fanciful? Our Aspect system allows you to adapt a concept from existing fairytales, fables, or myths as a noir-centric character, with plenty of room to rework your concept as the game goes. We actively encourage character-driven changes to the larger setting of the game, from owning notable landmarks to vying for power among the crime syndicates and police.

Unsure about what kind of character to play? We have examples to help you get started, and a list of wanted characters and frameworks for characters to help you get right into the game with personal plots and connections! Don't be shy, come take a look!
Wanted
We're just getting started here with a re-opening, the game should start very soon! We just need a few more people before we open our doors up wide! We've re-worked the entire concept, and have created a setting that's easy to come into and get involved with! What we're looking for are police officers, mob bosses, bar/club owners, and family connections to accepted characters! Take a look around, any business listed that doesn't specifically have an owner is open for you to create them! Have ideas for a business of your own? We're happy to have it! Got a character that you haven't had a place for? See how they work here! Coming in and getting involved is easy!
Links

GAME ♦ CHARACTER TYPES ♦ INFO ♦ SETTING ♦ APPLY ♦ PREMADE